Full Moon Parasite Protocol
Did you know?
Did you know that about 3.7 million Americans have a parasitic infection (cdc.gov)? Some of the most common risk factors for getting a parasite include:
Walking barefoot
Having pets
Exposure to childhood or institutional care centers
Eating undercooked or raw meat/fish
Signs that you may have a parasite infection are:
Skin issues (e.g., eczema)
Digestive issues (bloating, constipation, diarrhea, pain)
Unexplained weight changes
History of food poisoning
Nutritional deficiencies (despite a healthy diet)
Consistently waking up at 2-3 AM
By completing a parasite cleanse you can help to improve all aspects of your life!
Why cleanse during a full moon?
The brightness of the full moon naturally creates a drop in melatonin production, which downregulates the immune system. The Para Kit is designed to optimize the body's natural detoxification processes and nourish your system before, during, and after a full moon — which occurs 12 times per year. It is good to complete a parasite cleanse monthly due to the natural continual exposure of our daily lives.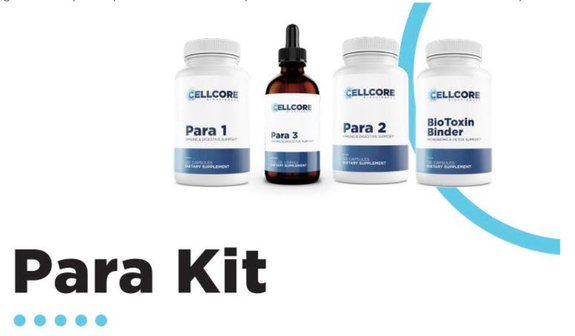 The supplements in this kit provide key herbs and nutrients to support the body's natural ability to detoxify during a full moon, including Mimosa pudica seed, amla fruit, black walnut hull, clove bud, holy basil, and neem. These ingredients also lend increased support to digestion, the immune system, and the gut microbiome. *
Each month, during the full moon you will complete your challenge which will last 3, 5 or 7 days depending upon your level.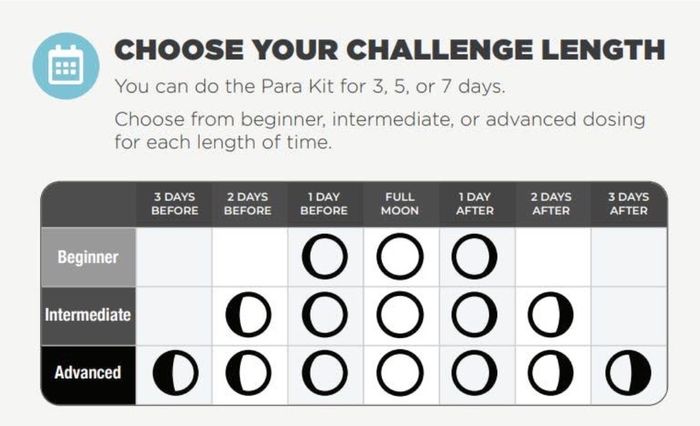 If you are new to the Full Moon Para Kit:
The 5-day and 7-day Full Moon Challenges aren't recommended for people who are brand new to cleansing. Immediately jumping into high doses of the supplements in the Para Kit may cause unwanted reactions to naturally promoting the body's ability to detoxify. We recommend focusing on drainage support and one of the beginner kits (such as the Jumpstart Kit), Foundational Protocol, or Comprehensive Protocol before promoting periods of deeper cleansing during a full moon.
If you are thinking of starting the Para Kit for the very first time, it's imperative to ensure your drainage pathways are moving well. This means 1-3 bowel movements per day and the ability to sweat. This can be completed with the Jumpstart Kit.
What's Included?
Para 1: Para 1 is CellCore's flagship immune and digestive support supplement, made from 100% pure Mimosa pudica seed. * Naturally gelatinous, Para 1 becomes jelly-like and sticky as it makes its way through the GI tract. This encourages the removal of occasional intestinal buildup, supports the gut microbiome, and promotes the body's natural ability to detoxify. *
Para 2: Para 2 is formulated with a variety of herbs to support immunity and the gut microbiome, as well as promote the body's natural ability to detoxify. *
Para 3: A blend of seven herbs - including clove, black walnut hull, and holy basil - work together to support the body's natural detoxification processes and gut microbiome.
BioToxin Binder: BioToxin Binder promotes the body's natural ability to detoxify. * It lends increased support to the gut microbiome, which optimizes immune and digestive function. *
*These statements have not been evaluated by the Food and Drug Administration. These products are not intended to diagnose, treat, cure, or prevent any disease.
How to complete the challenge?
Each challenge length has their own dosing schedule. Here is the beginner challenge dosing: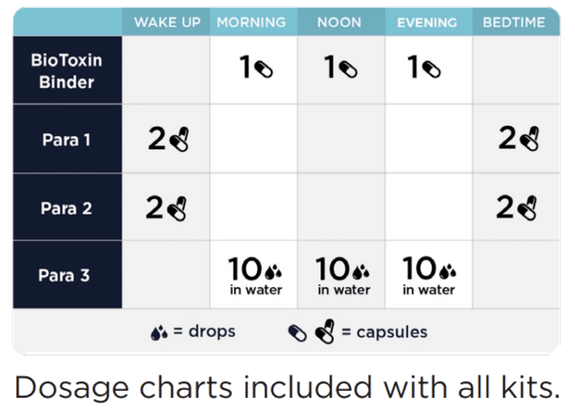 When you buy the package, you will receive detailed instructions on completing each challenge length.